#missingtype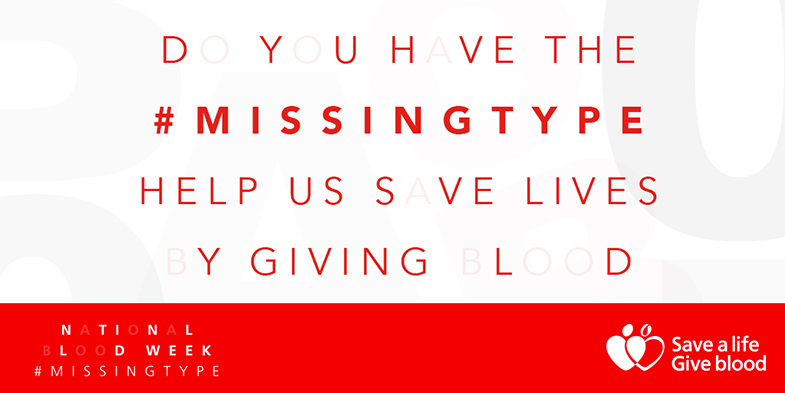 #missingtype was created for this year's National Blood Week in the UK, in collaboration with Engine and Twenty Six Digital. The campaign was a response to the dramatic reduction the in the number of new blood donors coming forward in the UK. Jon Latham at NHS Blood and Transplant, speculates,

…people's lives have got busier over the last decade. People are working longer hours, commuting further, spending more time online and have less time of their own, despite more options of how to use it. Good causes are also competing increasingly for people's attention and time.
And yet the campaign saw everyone from big brands to small family businesses, individuals, as well as groups of employees, dropping the As, Os and Bs from their names to raise awareness of the need for new blood donors. They photoshopped their logos and physically altered their sign boards, changed twitter handles and facebook profiles, and took snaps of themselves holding up hangman-esque signs and altered name tags.
My personal favourite came from Deborah Champion, an artist who did a limited-edition print-run of one of her existing prints, Help will Come, and gave it away free to people who shared her poignant post.
The campaign reached an overall social media audience of 147 million across the week, with 30,000 new donors registering during the week and a three-fold increase in registrations compared to last year, breaking previous Blood Week Records.
So how do you create a campaign that everyone from an individual artist to a large corporate — even the prime minister's residence — can and wants to be a part of? A campaign that some of the world's largest brands are willing to modify their own logos for? And a campaign that can have impact on its cause beyond the publicity surge?
The campaign's call to action was very simple and used the most basic output of social media — text — as a starting point. On an individual level this could be applied to anything from a status update to the twitter post, to a profile name or handle. But on a larger scale it could be a logo or masthead, still easy to share on social media but also intriguing and bold enough to create media interest. And so as Odeon Cinemas pulled the plug on their signage and Downing Street (the Prime Minister's street) lost an O on its sign, the press began to jump on board too.
The fact that the simple call to action had no strict parameters made it both easy to get involved and appealing to those who wanted to do something a little different with it.
The campaign rather than unifying a single message (change your profile picture to an = sign for example) actually individualised it, creating a message that was customised by each individual, but which still lead to a tangible united action (sign up to donor list).